A new roof is one of the most cost-intensive investments you can make in your home. You want to make sure that you are putting the job in the right hands
But, because roofing is a maintenance project you only take on every 10 or even every 20 years, it can be hard to determine which company you can trust.
Before you sign a contract with a roofer, make sure you ask these essential questions:
1. Are you licensed?
Correct answer: yes.
In most states, people installing roofing need to be licensed to work.
Licensed roofers take a test to get certified.
When you are working with someone with the proper credentials, you know that they are up to date on code requirements and will install a roof that complies with them.
2. Do you carry workers comp and liability insurance?
Correct answer: yes.
These two types of insurance are vital if you are going to have someone working on your home.
General liability insurance covers any damage to your property that might occur as a result of the work you are having done.
Workers compensation will cover any worker injuries.
Without these policies in place, liability can fall on you instead.
3. What is your street address and phone number?
Correct answer: a full local street address and phone number.
If the roofing contractor you are interviewing uses a PO Box or offers no address at all, that is a huge red flag.
Without an address, you have no protection against unfinished work or work that is not done correctly.
It is also a good idea to work with a company that is local.
If you have problems with your roof after the fact, tracking down someone from an out of state company can be difficult.
4. Will you remove my old roof?
Correct answer: yes.
Many roofing companies will tell you that it is more cost effective to install another layer over an existing roof.
However, visual inspections of old roofs can miss many details that affect your home's structural integrity.
If there is rot under the shingles, a visual inspection will not reveal this.
Because of this, it's better to remove the old roof and start with a fresh one every time.
5. How do you protect my gutters during installation?
Correct answer: we use ladder stabilizers or standoffs.
The way that your roofing contractor and their crew get onto your roof to do their work is of vital importance.
Stabilizers and standoffs keep them from leaning ladders directly against your gutters. Without these tools, there can be hundreds of pounds on these delicate and essential spots.
If your roofing contractor can't tell you how they will protect your gutters, that is a sign that you should interview someone else.
6. Do you use subcontractors?
Best answer: no.
You want to know who is up there installing the roof on your home.
Ideally, your roofing contractor will have employees who they are familiar with and who they trust.
In the event that they do use subcontractors, make sure that you are well-protected.
Confirm that the subcontractors also carry their own workers comp and general liability insurance.
You should also look into alien waivers so that you are protected if your contractor does not pay the subcontractors who work on your home.
GET YOUR FREE ROOF INSPECTION NOW
7. Do you install drip edge with the roof?
Correct answer: yes.
The drip edge is a rim of aluminum that is installed at the edge of the shingles where they extend off the roof.
Their purpose is to direct water runoff into your gutters and ensure that excess moisture does not stay up against the fascia of your roof.
Some roofing contractors may not install these unless asked.
Because of this, it is important to get clarity before the job begins.
8. What do you do if there is bad weather during the job?
Correct answer: cover the work with tarps or plastic sheeting.
A new roof installation is a job that can take several days.
If there is rain or other inclement weather during the process, you want to know that your roof is properly protected.
You should also find out what the plan is if rain keeps up for several days.
Ideally, your roofing contractor will come back to check that their covering is secure and keeping your home safe and dry.
9. How do you dispose of refuse during roof replacement?
Correct answer: we bring our own refuse container.
A roof replacement creates a lot of garbage, which can include old shingles, plywood and more.
Make sure that the company you hire also takes responsibility for disposal of this waste.
10. What warranty do you provide?
Correct answer: at least 25 years.
No matter what kind of roofing material you are using, your shingles should last at least 25 years after installation.
Ask your roofing contractor how they make things right when roofing products fail before the end of their expected life.
11. How will you protect my home's landscaping?
Correct answer: a detailed plan that prevents harm.
Many people invest hundreds or thousands of dollars in the flora around their homes.
Make sure that your roofing contractor is invested in keeping your lawn and hedges safe from damage throughout the job.
12. What costs are incurred if you find soft or rotten roof decking?
Correct answer: a cost per sheet for plywood.
If your roofer finds soft or rotten decking during installation, they'll need to replace the affected areas.
Getting the cost per sheet in advance allows you to protect yourself from surprise costs once work is begun on your roof.
13. Who do I talk to onsite if I have questions?
Correct answer: an introduction to the person who will serve as your liaison during installation.
During a roof installation, you want to be able to have someone to talk to if you have questions or concerns.
This saves you from panic if you find damaged grass, an improperly covered open area at the end of the day, or another problem.
14. Do you provide a written estimate of costs?
Correct answer: yes.
A detailed estimate can help define expectations before the job begins.
While your roofing contractor can't anticipate everything, they should be able to tell you about how much it'll cost to have your old roof removed, a new one installed, as well as any expected extras.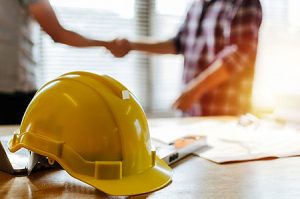 By asking these questions, you can demonstrate that you know what to expect during a roofing job.
The answers that you receive will not just give you information about what services your roofing contractor will provide
They will also help you gauge your contractor's honesty and dependability
With these impressions in hand, you are better equipped to choose the right person to install your new roof and protect your home.