Replacing a roof can be one of the most stressful maintenance chores that homeowners must face.
They require a lot of work and have high costs.
Poorly constructed roofs, however, can easily lead to housing damage through leaks, rot, and mold.
Putting off the job, in other words, can increase the costs associated with the roof, resulting in projects that take longer to complete and forcing you to pay more money to get it done correctly.
Many people hiring roofing contractors want to know what they can expect from the process.
This can help them feel more confident and in control from start to finish
Here is what everyone should know about what a roofing contractor does when they come to install a roof and how to keep your project running smoothly.
Know exactly what work they will do and outline a specific contract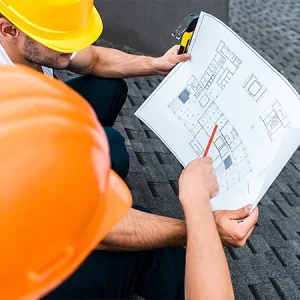 Before you sign any contracts, you want to work with your roofing contractor to determine precisely what work they plan to do.
You will want to inspect your roof carefully to see if you have any sections that are newer than others, indicating that you would not need to replace the entire roof.
You also want to check the other parts of the roof aside from the shingles themselves, such as the flashing and the ventilation.
This will help you draft a contract that accurately reflects what needs to be done for the home.
You also want to keep in mind that roofing professionals regularly discover more about the shape of the roof after they have removed the top layer.
It is often impossible to have a complete picture of the work needed on the roof until the roof starts to come off.
For example, they may discover some decking that needs to be replaced.
Make sure your contract reflects an agreed-upon strategy for incorporating these new costs into the total amount of the job.
Given the importance of these conversations and inspections in the drafting of a fair roofing installation agreement, find a contractor who offers free consultations.
Your contractor should help you better understand what your roof needs and how they can help before you even get started.
Prepare the home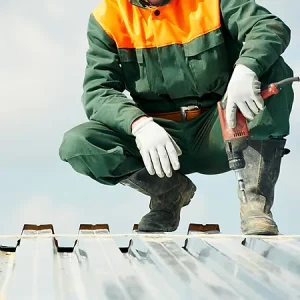 Roofing professionals know that they will have to disrupt your home considerably to get the roof installed.
The various tools will shake and rattle the home, potentially endangering expensive or otherwise valuable items throughout the home.
For this reason, a good roofing contractor will walk you through the proper procedure for preparing your home for the work.
This will include steps such as removing items from walls that could potentially fall, securing items such as china dishes or other valuables in cabinets or hutches, and moving outdoor flower pots and yard decorations that could sustain damage from falling debris.
Think about what could be damaged in a construction site.
Anything that could fall over should be secured.
This includes items in garages.
If your garage is attached to the main part of the home, you will likely want to move cars or motorcycles that may be parked inside.
Once again, dust and debris can cause damage.
Therefore, pull them out into the driveway or park them by a neighbor's home for the duration of the project.
You also want to make sure that any pets remain inside securely or go visit elsewhere during the work.
No one wants a beloved pet stepping on a nail or being hit by debris if they wander outside during the construction.
Cleaning up the home properly before the roofing contractors even arrive will make it easier for the company to get right to work installing your new roof.
Discuss with the contractors before they begin the job how to ensure that any valuables are well cared for.
Install the roof thoroughly and carefully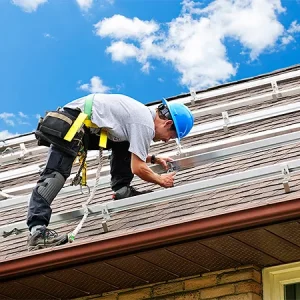 Work with roofing contractors who understand how to install the roof according to the manufacturer's guidelines.
Each roofing material has its own strategy for installing, and you want to make sure your professionals have worked with this particular material before.
They should know how to install it systematically and be able to describe the manufacturer's guidelines to you.
Ask them about the expected lifetime duration for this particular roofing material, according to the maker, as the quality of the installation can impact how long the roof lasts.
Do a thorough clean up
As your roofing contractor installs your new roof, you will quickly discover that a considerable amount of debris will end up falling from the worksite: shingles, wood, underlayment, flashing, and nails can all end up littered throughout your yard.
Of course, during the set-up process, the contractor should lay down tarps around the yard to help protect flower bushes and beds, but these tarps will not catch everything.
Your contractor should take responsibility, however, for a thorough clean-up.
Following the job, they should clear away the tarps into dumpsters they also supplied.
They should also careful walk through the yard and flower beds to collect any debris that did not make it one to the tarp.
One of the biggest potential dangers following a roofing installation remains the presence of nails.
If nails get stepped on by people or animals, they can easily cause serious injuries.
A reputable company will have a regular strategy in place to help them clean up these yards without missing nails hidden in the grass.
At Acclaimed Roofing, for example, we walk through clients' yards with a powerful magnet that helps us find and dispose of any nails or other forms of potentially dangerous debris.
This helps our clients feel confident and comfortable in their yard as soon as we finish our job.
Making the decision to install a new roof requires a considerable amount of construction work and investment.
This can lead to feelings of anxiety for homeowners who do not feel accustomed to large projects in their homes.
Understanding what roofing companies do throughout the process, however, can help people feel more comfortable and prepared.
This sets them up for success in taking care of their roof.